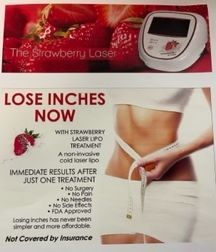 Each treatment is 30 minutes. When you come in please wear loose -fitting clothes. Please do not eat two hours prior to your treatment, and drinks lots of water at least 32 oz. Make sure you are prepared to work out for a minimum of 20-30 minutes of cardio within 8-10 hours, but the sooner the better.
Offering patients a revolutionary advancement in non-invasive liposuction, the Strawberry laser has a proven track record of dramatic fat loss in just one 10-20 minute session. Drawing out and "melting" fatty tissue, water, and waste from fat cells, the laser lipo tool has been shown to quickly reduce fat deposits, causing the average person to see approximately 3.7" lost in just a single treatment area. Of course, results depend on a number of personal factors such as a patient's starting weight and health, the targeted area, and the overall goal. However, Strawberry Laser lipo does offer a pain-free alternative to other fat-reducing methods and invasive surgery.
Benefits of the innovative laser lipo procedure include:
Instant results

Smoother, tighter skin

Noticeable fat loss

Diminished appearance of stretch marks

Improved detoxification
Find out more about how the Strawberry Laser works and if it's right for you and your needs by calling today.